What We Do in the Shadows réalisé par Jemaine Clement et Taika Waititi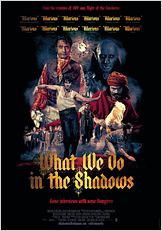 En Nouvelle-Zélande, une équipe s'installe dans la demeure de vampires afin de tourner un documentaire sur leur mode de vie. Les créatures tentent de sortir dans les bars, pensent à nettoyer le sang après leurs méfaits, cherchent un style vestimentaire et découvrent Google. Elles doivent également faire face à un nouveau venu de leur espèce, très peu discret, et aux humains qui aspirent à les rejoindre.
Ce film néo-zélandais m'a beaucoup intrigué. Déjà par son scénario loufoque à contre-courant de ce qui se fait en matière de film vampirique, mais aussi de par les personnes qui sont impliqué dans la création du film.
En effet, les deux réalisateurs (Jemaine Clement et Taika Waititi) sont aussi les acteurs principaux de What We Do in the Shadows mais pas que ! Ils sont aussi les auteurs du scénario du film ainsi que les producteurs et coproducteurs. Rien que par curiosité, on veut voir ce que ca va donner.
Petite anecdote assez sympathique je trouve, les bars et discothèques dans lesquelles les vampires se rendent sont réels et se situent autour de Courtenay Place, à Wellington. Qui mieux qu'un bar ressemble à un autre bar ?
Toujours dans ce souci d'authenticité, une scène de combat entre vampires et loups garous a été tournée au même endroit que celle de la traque des Nazguls et Frodon dans La Communauté de l'Anneau, premier volet de la trilogie du Seigneur des Anneaux de Peter Jackson.
Genre : Comédie horrifique - Durée : 1h25 - Avec Jemaine Clement, Taika Waititi, Jonathan Brugh – Nationalité : Néo-Zélandaise - Film interdit aux moins de 12 ans - Date de sortie en France : Inconnue.