Daredevil (Saison 2)
Détails

Catégorie parente: Télévision
Catégorie : Séries US
Écrit par Aurelie G.
Disponible sur Netflix le 18 mars 2016
Que dire de Daredevil si ce n'est que j'ai tout simplement adoré cette deuxième saison ?!
Fidèle abonnée Netflix, je me suis lancée dans les épisodes, à cœur et corps perdu, le weekend dernier et j'ai engloutis, que dis-je, savouré, les 13 épisodes qui composent cette deuxième saison en deux petits jours seulement !
Comme toute production Netflix, cette saison de Daredevil est subjuguante, poétique, prenante, épatante, épique, les qualificatifs me manquent !
Je suis vraiment très satisfaite du service proposé par Netflix et je trouve la majorité des productions d'une réelle qualité, aussi bien en termes de réalisation et de mise en scène qu'en termes de scénarios et de visuel global, tout est toujours très prenant chez Netflix et Daredevil ne déroge pas à la règle.
De plus, Netflix réalise un tour de force grâce à une communication irréprochable sur cette deuxième saison de Daredevil. Je pense notamment à cette publicité et je vous souhaite d'avoir la chance de la voir, diffusée dans les cinémas, que j'ai vu mercredi à l'occasion de la sortie de Batman Vs Superman, qui propose une expérience « immersive », ou le spectateur assiste à une scène de combat du point de vue de Daredevil c'est-à-dire dans le noir total, seulement guidé par les sons, les battements de cœur, la respiration et le bruit des armes, j'en ai eu des frissons !
Carton plein donc de mon côté pour cette série et cette saison. Si j'avais aimé la première saison, j'ai été totalement engloutie d'amour par la seconde.
Cette année, alors que le cabinet d'avocats Nelson et Murdock a réussi à faire tomber le terrible Wilson Fisk et que chacun pense pouvoir reprendre ses petites activités tranquillement, rien ne se passe comme prévu.
En effet, un nouveau tueur est en ville, et il commet de terribles tueries au sein des différents gangs et cartels de Hell's Kitchen. Une mission délicate pour le démon de Hell's Kitchen s'annonce ainsi que pour les avocats qui se retrouvent au cœur d'une histoire qui les dépassent …
Le ton est donné et dès le premier épisode, tout s'enchaine très rapidement, Matt finit même avec une balle dans la tête dès le premier acte, autant vous dire que dans cette saison, que ça soit les « héros » ou les gens « ordinaires », personne n'a eu le temps de chômer !
Pour moi c'est la clef de tout, si cette série est aussi addictive, c'est par ce qu'il n'y a pas de temps morts. C'est non seulement lié au fait que la série ne compte que 13 épisodes mais aussi et surtout au scénario bien rodé qui nous donne toujours envie d'en savoir plus et nous pousse à une (sur)consommation télévisuelle.
Cette saison n'est tout de même définitivement pas accessible à tous, de nombreuses scènes sont sanglantes, très sanglantes, voire choquantes (bien que la scène de la décapitation à coup de portière de la première saison reste à mes yeux inégalable…). Mais l'esthétisme global de la série demeure magnifique, même les plans les plus sanglants révèlent une certaine forme de beauté. Les couleurs mêmes, appliquées au monde de Hell's Kitchen, ont quelque chose de sombre et onirique à la fois.
Le seul regret esthétique que j'ai c'est de ne pas avoir eu plus de plans du point de vue de Matt. J'aurai aimé « voir à travers ses yeux », notamment lors d'une scène où il est sous la pluie et où nous comprenons clairement qu'il perçoit tout le monde qui l'entoure grâce à la réverbération du bruit des gouttes de pluie. (Oui je sais, je demande une scène identique à celle du film … Mais moi, j'avais adoré ce film !!!)
Ce deuxième opus de Daredevil, puisqu'il s'agit à mon sens d'une œuvre à part entière, nous présente de nouveaux personnages, tous plus intéressants les uns que les autres.
Tout d'abord, Frank Castle, le seul et unique Punisher.
Je l'ai adoré ! Du début à la fin.
C'est un personnage complexe, qui fait ce qui lui semble être juste. Ses méthodes ne sont résolument pas les bonnes mais non d'un chien, que c'est bon !
Nous découvrons le Punisher par le biais de Daredevil mais le fait qu'il soit plus tard représenté par Nelson et Murdock et que Karen d'une façon ou d'une autre s'attache à ce personne atypique nous permet de mieux connaitre l'homme derrière le fusil, Frank Castle et j'ai tout aimé de lui. C'est mon personnage préféré de cette deuxième saison et j'espère le retrouver plus tard par ce qu'il est absolument fabuleux !
Ensuite, vient le tour d'Elektra.
Son personnage est plutôt réussi, si généralement, j'ai du mal avec les personnages féminins, Elektra a réussi à me faire oublier mes réticences. Son personnage a lui aussi un côté très sombre et il est en parfaite opposition à Matt. Malgré une « éducation » par Stick absolument similaire, les deux personnages sont en miroir l'un de l'autre. Elektra aime tuer, elle est avide de vengeance et malgré tous les espoirs et efforts de Matt pour lui faire comprendre que chacun peut changer et devenir qui il souhaite, elle a beaucoup de mal à se détourner de sa mission de vengeance. Elle possède néanmoins un grand cœur et je la sens réellement attachée à Matthew.
Cette saison en parallèle de l'histoire avec le Punisher, nous expose un nouveau « méchant » suprême, l'organisation secrète de « La Main » avec à sa tête nulle autre que le vilain méchant ninja Nobu (déjà mort plusieurs fois mais qui a une furieuse envie de vivre visiblement …). Cette organisation n'a qu'un but : prendre le contrôle du Black Sky.
C'est quoi le Black Sky me direz-vous ? Une sorte d'arme de destruction massive mais à vrai dire, nous n'en savons pas tellement plus, nous savons juste que si la main mettait la main ( ah ah que c'est drôle ce jeu de mot …) sur cette arme, nos héros, ainsi que le reste du monde, auraient beaucoup de soucis à se faire …
Je n'en dis pas plus mais sachez que de grosses révélations sur cette arme sont faites à la fin de la saison et que même si pas mal de questions sont sans réponses, beaucoup de solutions sont tout de même données, ce qui contribue pour moi au succès total de la série.
L'autre nouveau personnage de la série c'est le procureur Reyes qui pose de nombreux problèmes aux avocats, puisque bien décidée à les punir d'avoir choisi de défendre le Punisher, elle met tout en œuvre pour leur mettre des bâtons dans les roues et couler Nelson et Murdock.
Nous apprendrons pendant la saison qu'elle a bien des choses à cacher et elle permet de s'intéresser un peu plus au côté « humain et avocats » qu'aux supers héros puisque c'est contre elle que va se dresser le procès de la décennie, « Nelson et Murdock pour Frank Castle contre l'état et le procureur Reyes. ». C'est une femme forte, un personnage plus complexe que prévu qui au final m'a plutôt bien plu !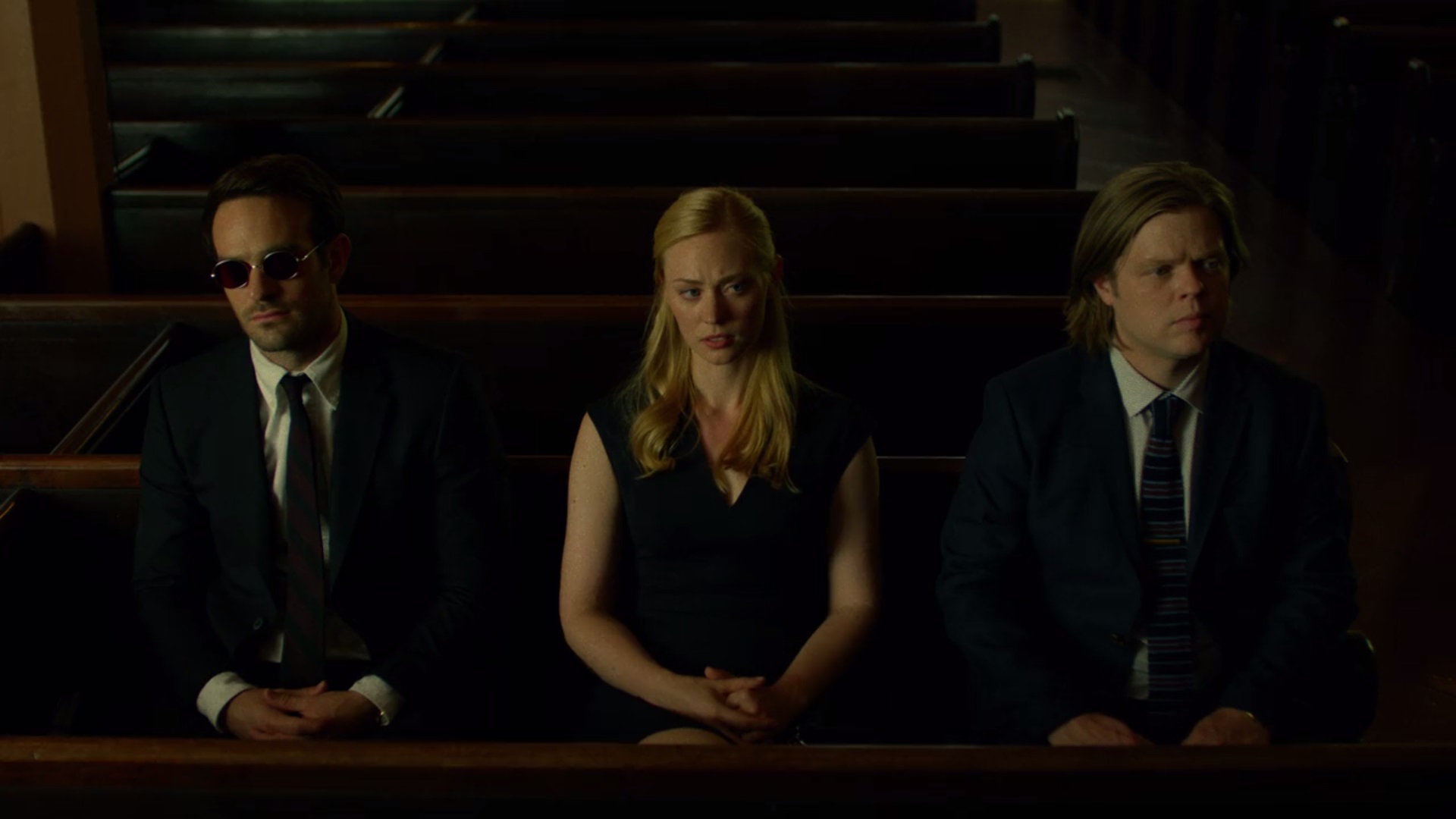 Cette saison a aussi été l'occasion de prendre des nouvelles de nos personnages préférés.
Nous en apprenons un peu plus sur chacun des protagonistes principaux, Foggy, Karen et Matt, leurs relations évoluent tout au long de la saison, au rythme des évolutions de Daredevil d'ailleurs, et la complexification des relations est intéressante.
Nous avons aussi brièvement retrouvé cette saison le fabuleux et terrible Wilson Fisk qui semble ne pas vivre si mal que ça son incarcération... J'ai adoré le retrouver, il est absolument diabolique.
J'ai l'impression pourtant que par rapport à « La Main » et tout l'histoire un peu mystique autour du Black Sky, Fisk est se situe dans une dimension un peu parallèle. Je pense qu'il va continuer d'œuvrer dans son coin et croyez-moi, à mon avis, nous n'avons pas fini d'entendre parler de lui !
D'autres personnages sont de retour cette saison comme Claire, l'infirmière qui est un personnage très agréable et que j'apprécie sincèrement, surtout d'ailleurs quand je la mets en opposition à Karen que je déteste absolument et que je trouve d'une niaiserie affligeante.
Nous retrouvons aussi Stick, l'instructeur de Matt qui s'avère avoir été aussi l'instructeur d'Elektra. Il se dévoile, en leader de l'opposition contre la Main. J'aime beaucoup aussi son personnage qui a mon avis a encore son lot de secrets à révéler.
De nombreux moments m'ont horrifié dans cette saison de Daredevil, j'ai été tour à tour écœurée, surprise, j'ai frissonné de bonheur, pousser des cris d'excitation extrêmes.
Cette saison m'a fait vibrer tout simplement.
Il faut le voir pour le vivre mais une des scènes m'a littéralement hérissé tous les poils des bras de par son intensité héroïque. J'aime à la folie cette flamme de justice et de bravoure qui emporte tout sur son passage.
Il faut maintenant attendre pour savoir si Daredevil va être renouvelé pour une troisième saison mais vu la pépite d'excellence pure qu'est cette saison deux, je ne vois pas comment Netflix pourrait faire autrement ! A suivre sur Place To Be !